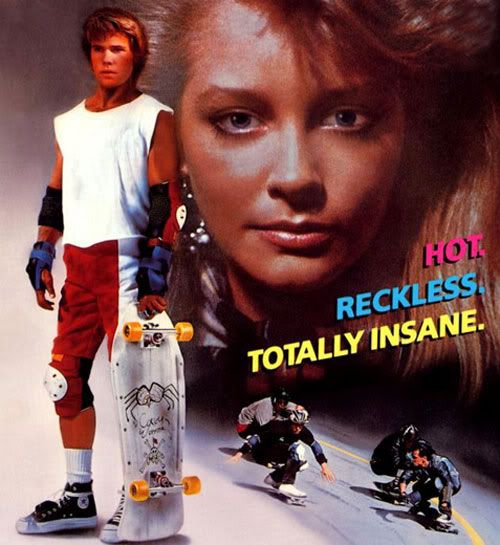 Today we revisit the popular 1986 skate drama Thrashin', in which a skater bro named Corey (aka Josh Brolin, the older bro from Goonies) gets with a Julie named Chrissy who just happens to be the younger sister of Hook, leader of tuff punk skate gang The Daggers. As you could probably guess, those courting Tommy Hook's lil sis must be prepared for harsh pool jousting and downhill skate-race shenanigans on the reg. You ready for that, Valley Boy?

In this new BT video Corey wakes up one morning, throws on his VSW/Jimmy Zs, and hitchskates to grind rails w/ the ramp locals. As the afternoon sun beats down and VEGA's outstanding new joint "No Reasons" ramps up, so does the crowd. Does he have what it takes to get nice at the next level?




VEGA - No Reasons (from Well Known Pleasures, out this summer)

GvB and Big Stereo are rightfully tagging this to be the essential summer 2k9 jammy, and it's also the lead single for VEGA's Well Known Pleasures EP dropping digitally May 19 soon via Vogue College Records. It's great to see Alan's finally putting a release together; I may have the whole thing before then but I'll still buy it twice. Because VEGA is that crescenfresh.




Bonus - although an official soundtrack for Thrashin' was never released (what's up with that), the team at J Projex pulled together most of the lineup including old school Chili Peppers, Devo, Circle Jerks, etc. You really don't need to hear a Meatloaf movie theme titled "Thrashin'," it's not even post-ironically funny, but they have it, so.


Red Hot Chili Peppers - Blackeyed Blonde (from Freaky Styley, 1985)


Devo - That's Good (from Oh, No! It's Devo, 1982)

Related:
VEGA vs. Rad
Cut Copy vs. Rad
Architecture in Helsinki vs. Mac and Me