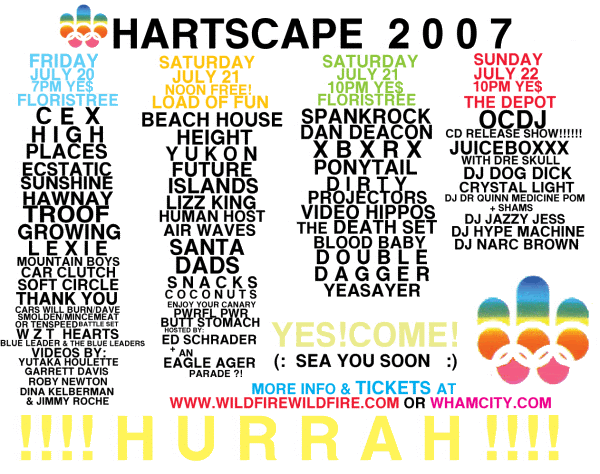 Later in the week our new investigatory journalist Raven Baker will give you an even heartier helping of Whartscape - the origin and roots of its hideous name and the Wham City organizers behind all this nonsense - but today we'll crack into the long list of artists that call Bmore home and will, we assume, be simply rolling out of bed in their Umbros to perform this weekend. All illustrations courtesy of the talented folks at Baltimore production/record label Wildfire Wildfire.



Video Hippos won't know if you're warming up, starting to tap the feet. To gain the attention of the Kevin/Jim duo (with occasional function button twiddling from Wham fam member OCDJ) you must cause a real fit as they operate in a dark emergency room lit only by obscure cartoon noir. A big fat gask mask ensures drummer and animator Kevin O'Meara won't make himself sick with the beats, but you're on your own. Currently touring the neon green states with D. Deacon, and playing Saturday night at Floristree.

Buy their debut album Unbeast the Leash at the show.
Video Hippos - The List
Video Hippos - Kool Shades


We've all spent a few cloudless nights in vacant lots swigging NyQuil and using the B Heezy's witchy slide powers to seance mazzy stars, so, 'nuf said. They tour with Blonde Redhead in August so start perfecting your shoedaze now. Beach House plays Saturday afternoon at 120 North Ave. Buy their debut from Carpark.
Beach House - Apple Orchard
Beach House - Master of None
Beach House - Tokyo Witch


More: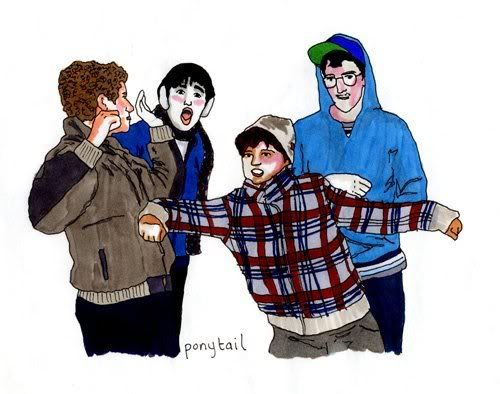 Ponytail play Saturday night at Floristree. Not really our steez but you have to respect the yelling and the shouting and what not.
Ponytail - Lion Down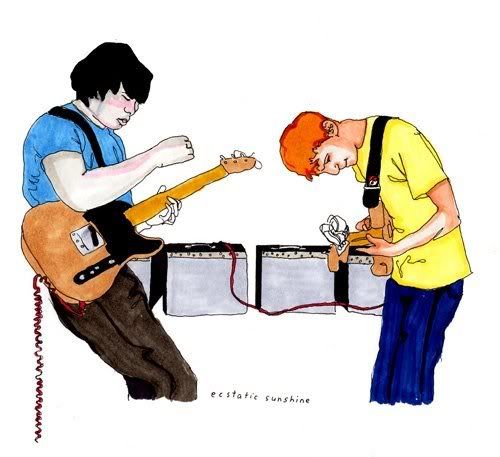 Ecstatic Sunshine play Friday night at Floristree. We're pretty sure they now make up one Voltron portion of The Death Set, so. Pretty solid choppin.
Ecstatic Sunshine - Little Big Dipper





You "may" have heard of Mr. Dan Deacon, who could eat Tang crystals and watch Rad with James Lipton as they both stare at the "classically trained composer with a Masters degree in electro-acoustic composition" nametag affixed to his ripe neon Daffy Duck tee. Get tickets to the Saturday night show, which also includes Spank Rock, at Wildfire Wildfire or Wham City before it sells out. Don't you want to be a part of the Flickr zone?
Dan Deacon - Wham City
Buy Spiderman of the Rings from Carpark.