Baltimore's annual Artscape summer festival exists in your town in a smaller form; you already know it well - reunited soul groups crooning midday to boomers feeding funnel cake to tots on their knees at picnic benches with industrial strength red and white tablecloths. America, fuck yeah. But a few new festivals spawned last year in Charm City to serve the tattooed, weird and beautiful masses: Altskape, a showcase for Artscape's beloved but banished art car exhibit, and Whartscape, two sweaty nights of spazzcore madness at Wham City's battered Copycat warehouse.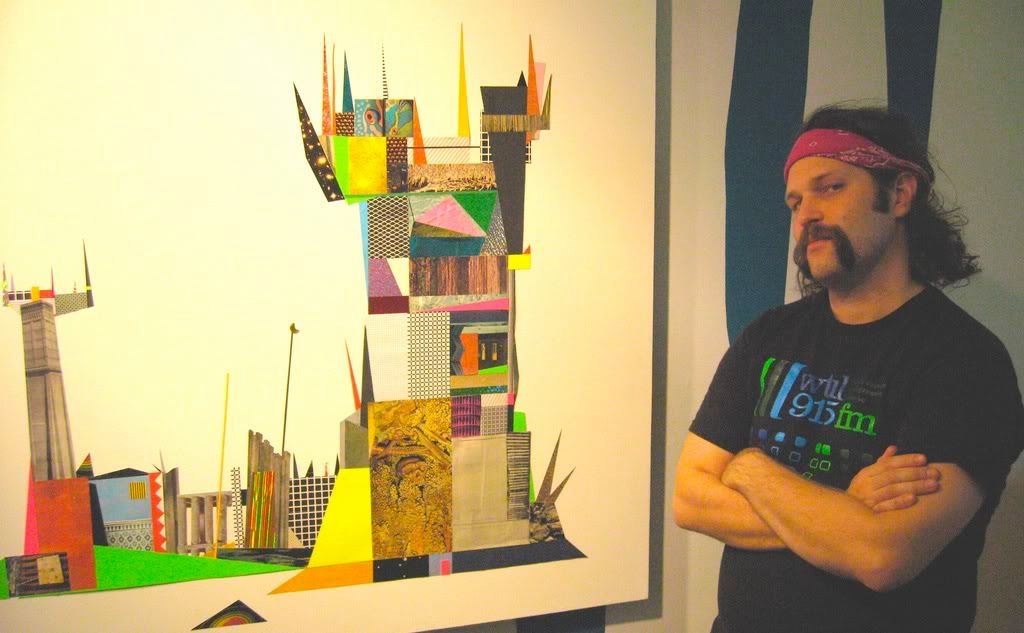 Inducing a predictable cringe from the more conservative set, Whartscape is far from a blemish on the city or its music and art scene. Organizer Adam Endes (lead singer for Blood Baby, pictured above with a Ben Furgal piece) says, "...here was this art festival called Artscape happening. It wasn't really aimed at young people. It seemed to be for families and people who have money. So we figured, let's put on a show for the people who want loud music and crazy dancing."

A show for the people, indeed - Whartscape is back for its second year with an impressive lineup of (no longer) underground hotshits including Spank Rock, Dan Deacon and The Death Set. Despite losing their venue last year, organizers found digs at several local warehouse spaces and nearby club The Depot. The shenanigans have been expanded to three nights, with most of the action taking place at Floristree, a warehouse venue in the H+H building that doubles as home for a number of Baltimore musicians and artists. Floristree is a natural choice according to resident Jason Urick (also of experimental outfit/festival performers WZT Hearts) as the venue has hosted a number of Wham City shows. Urick also cites "the lack of suitable venues and our collective desire to see this event take place" and crediting fellow Floristree resident Matt Papich, of Whartscape co-organizers Wildfire Wildfire. Papich will be performing twice at Whartscape; Friday with his band Ecstatic Sunshine and Saturday night with The Death Set.












"Our main reason for having Whartscape during Artscape is that Baltimore is packed that weekend with a lot of people looking for stuff to do that a city-sponsored festival can't really be host to," Deacon told the City Paper . "Not that we are doing anything insane, but I don't think Artscape would be too into Blood Baby screaming 'stab my face' at families eating gyros and looking at painted plates. Plus, Artscape ends at sundown, while we can rage into the night."

Of course, Whartscape's expansion coincides with Wham City's ramped up national attention, due in no small part to the flurry of press (especially blog press, whatever) surrounding Deacon, who has remained an integral force in organizing the fest despite heavy touring. Endes insists plans to expand Whartscape percolated regardless of any outside attention or influence. "We are a group who wants to and strives to be better than we were at any previous point in any of our lives. We do this with all things." Local talk show host Ed Schrader adds, "It's hard to trace something like that because even before all of this media hubbub we had big ass shows and big turnouts. I think people just like sweaty warehouse spaces and lots of b.o. and cigarettes."

Sweaty, indeed - if you have tickets to the Saturday night show you might consider wearing your Bikram gear as temps as Floristree rise quickly even without Spank Rock's NR17 lyrics. And fellas, we know it's hot, but cutoff jean shorts are a choice you'll have to live with for a long time.

In the spirit of Wham City's long-standing "No Jerks" policy, and because many of the venues are literally people's cribs, organizers ask that Whartscape attendees heed these simple guidelines to make sure we can all Whart in peace:

-Don't cram the elevator so it gets stuck (maximum occupancy of six)
-Don't tag our house
-Don't pee in the stairwell or on our floor
-Don't start fights

Based on the rules above it would also be a good idea to avoid getting in pee fights.

Read a great article about the Wham City crew here by City Paper's Jess Harvel, with photos by Uli Loskot.

Archers of Loaf - Greatest Of All Time
Ben Folds Five - Underground
David Bowie - Underground
Whodini - Underground
Men At Work - Underground

A big shot out to Raven Baker for helping out with this week's coverage. Raven writes Soft Graffiti and is a staff contributor at Beatbots. Did we mention she's also a Charm City Roller Girl? Respect, safe.