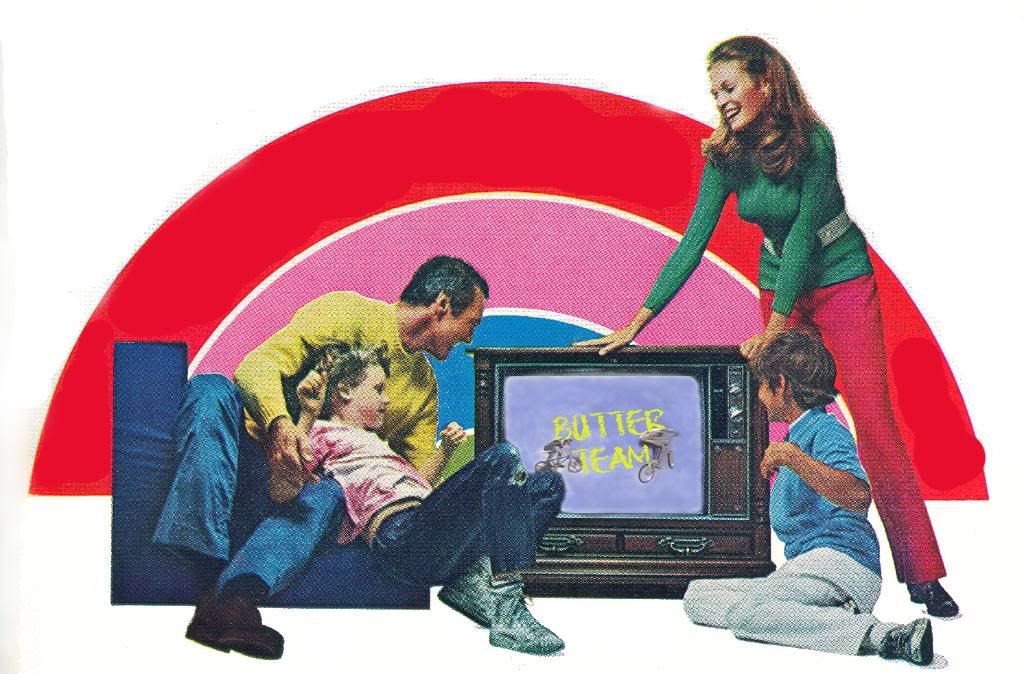 Our first Buttermore mixtape featured almost twenty top draw artists from Bmore proper including Dan Deacon, Small Sur, The Death Set, Videohippos, Beach House, Ponytail, Double Dagger, OCDJ...you get the picture, it was tighter than Red Foxx n ripple - but we didn't even scratch the surface son!

So here's round two. Instead of spoiling you with 18 tracks we're taking a closer look at six Bmore bangers in the hopes you find a new favorite and catch some of these cats on the road (and we've already got plenty for a third pop). Rest assured they're all handpicked and receive the Butter Team seal of freshness for whatever that's worth. Enjoy!




Payola Reserve, a foursome formed in 2005 and named after the music industry's nobler side, channels AM psychedelic Americana with dynamic instrumentation including Rhodes, organ, piano, melodica, rhythm and slide guitars, harmonica, bass, guitars and drums. With geographic precision, their July 2007 sophomore release 200 Years evokes the Payola Reserve's native Baltimore, the two-step of the Appalachians and the brass sheen of Memphis. They get lots of college radio play, their instruments smell of rich mahogany, and we love the whole album. Next Baltimore show: November 2 at the Northstock Festival.

Check Grade A Television on their Myspace.




Pontiak's band of brothers (Lain, Van and Jennings Carney) are quickly evolving to become specialists in drudging, morphine drip blues-tinged desert rok. Stream their third release Sun on Sun from September here. Next Baltimore show: November 3 at Talking Head Club.

Pontiak - Crows on the Move (from Valley of Cats)




As you can hear for yourself in just a few seconds, Monarch is why you check music blogs - to get your new favorite songs that shape the days and changing seasons ahead.

After spending their formative years in Baltimore creating bands and watching them fall apart, Andy Stack and Jenn Wasner realized in the summer of 2006 that they'd have to learn to make all of the noise themselves. In just under a year of performing and recording, the two multi-instrumentalists and songwriters have come to be known as "the rare indie rock two-piece that could pass for a trio or quartet when you close your eyes" (City Paper), winning over crowds at every venue Baltimore has to offer as well as audiences up and down the East Coast and Canada. Read the full CP album review for their debut If Children here, but mainly, just listen. Next Baltimore show: October 27 at The Paper Kingdom.

Monarch - Family Glue
Monarch - Obituary




Celebration is enjoying a ton of well-deserved attention surrounding this month's release of The Modern Tribe. Solid top-tier blog buzz (double points for Pitchfork), premature "Album of the Year" claims, and a Simian Mobile Disco remix? Triple check. We're not complaining about overhype - The Modern Tribe is distinctive, trippy goodness that deserves to be shared.

"Fittingly the musical union of singer Katrina Ford, organist/guitarist Sean Antanaitis, and drummer Dave Bergander hails from Baltimore, a city crushed by institutional lower class and aggressively bristling with pockets of mutant art and culture. Their heady music feels ideally suited for all night dance parties in the hearts of decaying cities, a sort of beacon of the ritualistic power and magical potential of ancient civilizations performed and unleashed in the modern world." (Celebration's MySpace)



Celebration - Evergreen

Pitchfork's review of The Modern Tribe.

Celebration heads out on a huge tour this week, so check here to see when you can get down. Next Baltimore show: December 8 at 2640 Space.




Arbouretum's 2007 sophomore album Rites of Uncovering offer a sprawling, experimental noir-folk quest to uncover "a sense of religiosity that is not tied down to a particular moral or ecclesiastical approach, but rather proto-religious feelings such as awe in the face of something greater."

More from their bio: "Dave Heumann, the lead player in Arbouretum who is based in Baltimore, has played with Amomoanon, Bonnie 'Prince' Billy, Cass McCombs and Papa M., however Arbouretum is the first band for which he is the primary songwriter, guitarist and singer. His idea for the band was one whose songs would evoke natural forms and movements. Their approach is one of collective deconstruction, whereby they take apart the melodic and the rhythmic ideas of a song, turn them sideways, backwards, or invert them in order to explore and develop the song's possibilities."

Members of Arbouretum also play in Human Bell, Television Hill, the Anomoanon, and Frenemies, and the band is currently on a two-month European tour with Beach House. Next Balitmore show: too busy scrambling wigs in Stockholm, Berlin, Amsterdam and other exotic locales at the moment, but hopefully sometime in early 2008.

Download their set from last month's Current Canyon Fest here (they were unofficially named "Best Live Act" by Baltimore Taper Jeff Mewbourn).

Arbouretum - Pale Rider Blues (link from Instrumental Analysis)




When not posing naturally in the great outdoors, Baltimore's Two if by Sea is building a strong national following behind their sophomore release Safety. Local sources say they "tear it up live" with their "dark and heady brand of angular post-punk" that is compared across the pond to "groups like Editors and Franz Ferdinand." Maybe we "use quotation marks too often" or "don't practice excellent personal hygeine" but that's the blogger life, man. Shit is real. Next Baltimore show: 2008.

Two If By Sea - Teach Us A Song

---

So that's it for this round, hope you made some new friends. Let us know if you have a local band you'd like to be considered for a future mixtape. And thanks for stopping by. But mainly stay classy.