Next Saturday Chicago's Bang! Bang! will be at The Talking Head hosting a vinyl release party for their The Dirt that Makes You Drown LP along with Bmore shoegaze darlings Thrushes. Leave us a comment using either the word "bang" or "thrushes" in any context of your choice, or just write a nice haiku about the smell of library books, and you will be magically entered to win something from the following bucket of happiness:

- 2 guest list spots to the show
- 2 vinyl LPs of "The Dirt that Makes You Drown"
- 2 EPs of Bang! Bang!'s "Electric Sex"
- 2 Thrushes "Sun Come Undone" CDs
- 2 super awesome show posters signed by Thrushes (below)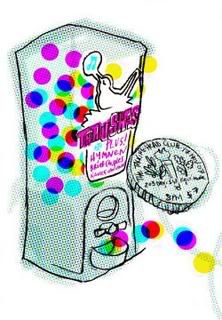 Bang! Bang! - She Came From Outer Space
Thrushes - Aidan Quinn

Thanks to Casey from Thrushes and Morphius Records for the happy fun prize packs. Hint: you might also specify in your comment which part of the bucket of happiness you're aiming for.