Whatever type of shenanigans you've planned for Hallow's Eve, and/or if you have costume paralysis like me but would prefer it fits with your usual theme of "something 80's," the original Von Steuben Day parade from Ferris Bueller's Day Off will be in full NYC schwing thanks to the Project Bueller team. And they need your help.

In addition to a full-scale replication float full of chicks in barmaid uniforms and the "step dancing crew," organizers are recruiting secret agent parade watchers to help out. You can wear '80s business casual attire, be an out-of-breath jogger from 1982, or whatever; just be ready to rage when the float comes by.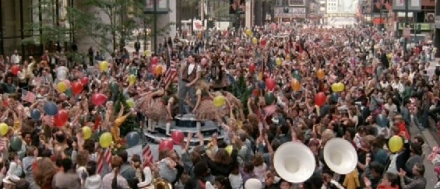 Insider tip: "Arrive early to get a good spot - this means 6:30 if you are near the beginning (Spring and 6th Ave) and 8:30 if you are near the end (21st and 6th Ave). Where you and your friends decide to station yourselves is up to you. (Do what you feel like doing!!)

The TV Crews are stationed at 10th and 6th Ave and even though we'll be repeating the routine throughout the path, we're really going to rock the shit out of this block in particular. You should probably stake out good spots there as early as 6pm."

See the full FAQ here and then repeat after me: "I am not going to sit on my ass as the events that affect me unfold to determine the course of my life. I'm going to take a stand. I'm going to participate in Project Bueller and THEN go to whatever lame ass party I was planning to attend. This will be much cooler than pregaming in my underwear."

Previously on BT: You realize if we played by the rules right now we'd be in gym?