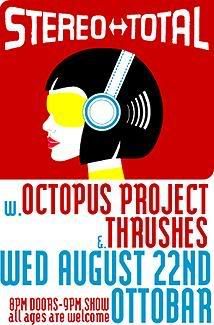 It started in the rowhouse alleys of Baltimore like most afterschool specials: couple of carefree young folks walking home from guitar hero practice. Tommy whips out a copy of the Thrushes' Sun Come Undone that he ripped from his older brother's hype machine stash. Reginald runs home, Carl's not so sure about this, but they spark earbuds and before you know it, A's in World History and Basic HTML Programming are becoming B's and C plus pluses. Away messages are peppered with Nietzsche quotes, Loveless posters plaster bedroom windows. Dinner table conversation is sparse, forks scrape absently; sarcasm outweighs the spinach quiche. Carl starts stealing the Dodge Stratus for moonlit graveyard PSP sessions.

So be warned that recreational use of Sun Come Undone may quickly become a daily habit - Thrushes' debut is a sonic fix to savor, shaking, knees to chin on the high school locker room floor between cathartic cold/hot blasts of pedals and cymbals.

1. Thrushes are playing at Ottobar this Wednesday with Stereo Total (Berlin) and The Octopus Project (Austin)
2. You can win a guest list spot to the show plus Thrushes merch - Sun Come Undone CD, Birdnote shirt and a hug from guitarist Casey - by leaving a comment on this post (first local comment wins)
3. Second place prize is a Sun Come Undone CD (you can be from anywhere!)

Note: the first contest is over but now we're doing another drawing on Tuesday afternoon for 2 more CDs, so leave a comment to enter. If you already left a comment you're in.

Thrushes - Into The Woods
The Octopus Project - I Saw The Bright Shinies
Stereo Total - Miss Rebellion Des Hormones

Instrumental Analysis also has a new demo track here. And of course Covert Curiosity, always ahead of the blurve, reviewed them in February. Buy Sun Come Undone here.



















Thrushes should open the show around 9pm. We had a quick group echat with the shoegaze songbirds earlier this week:

BT: You know when it's time to put on Sun Come Undone...to escape your mind on a drive, bury your head in the mattress after a long day, etc. So I'm curious, what was your escape music during the tumultuous times of high school?

Casey - I wore out a few cassettes multiple times in high school, namely: SY-"Daydream Nation", "Siamese Dream", Fugazi – "Repeater", "Rites of Spring" – "End on End" , The The- "dusk", J Church- "Camels, Spilled, Coronas…"

Rachel - a lot of elastica and blur for me. But Surfer Rosa always reminds me of driving around with friends...with nowhere to go, maybe 7-11

Anna - in high school, I liked garbage, stone temple pilots, and nirvana. Blur and Oasis, though public enemies, played side by side in my bedroom.

Ryan - My teen years were The Verve- A Storm in Heaven (an absolute masterpiece). You can get lost in that album. Jesus and Mary Chain, Fugazi. I always hear people talk about the first time the heard Nirvana and how it changed their life. I never understood why. But Fugazi- 13 Songs was definitely that moment for me. Peter Gabriel- Passion is still my all time favorite album.


BT: Have you listened to the first Sunny Day Real Estate album? Different sound, but for some reason Thrushes remind me of their debut which I listened to nonstop in 10th grade.

Casey - When I was in the 10th grade I went to Seattle with my grandparents and I made them stop at the Sub Pop store so I could get it on vinyl.


Rachel - I know I've listened to a bit of Sunny Day Real Estate in my life but don't have any recollection of the sound of their first record.

Anna - Nope. never had it.

BT: You've been compared a lot to the shoegaze heavy hitters, but what do you listen to?

Casey - Surprisingly we don't listen to much shoegaze at all apart from the Jesus and Mary Chain. Staples on road trips are the 60's girl groups. The Ronettes are the absolute peak of the form. We also love the Crystals, Shangri-La's, Supremes as well as doo-wop and early rock and roll. I really enjoy bluegrass, country & western, blues, basically any kind of old timey American music.

Rachel - I think we listen to a lot of music you wouldn't expect? Anna and I have our thing for Nelly Fertado and JT...a NON-guilty pleasure...dance party anyone?

Anna - I love The Cars and any Heart song. 80's ballad rock, too.

Ryan - Old soul music. There is still so much of it that hasn't seen the light of day.

BT: Bonus fun fact?

Casey- We get these gnarly fake teeth out of the quarter toy machines at rest stops and make faces at other drivers and stuff.

BT: Favorite Baltimore haunt?

Casey- Club Charles and for some strange reason I'm really looking forward to going back to the Talking Head

Rachel - Does haunt mean bar? Club Charles.

Anna - I haven't been haunting much lately, but I suppose I like the club charles or rocket to venus.

Ryan - Club Charles for sure.









BT: Lost in Translation anyone? (our favorite)

Rachel - I was Charlotte for Halloween a few years ago. And Anna and I love saying "Herp me! Herp me Mista Hallis!" "Lip my stocking!" Needless to say: Love the movie.

Anna - Lost in Translation is one of my favorites. It's so bittersweet.

Ryan - I LOVE lost in translation. I never thought a Jesus and Mary Chain song would be the highlight of a feature film. One day I want to write soundtracks.

Death in Vegas - Girls
Jesus and Mary Chain - Just Like Honey
Sunny Day Real Estate - Seven (from Diary)