New beats for your weekend - 100dBs. Before we say anything, open this link in a new window and bob your backpack while they rock the milk out your cat:

100dBs and Ryan O'Neil - Respect (feat. Prince Po)

100dBs is DJ/producer Dan Brenner, who moved to NY dirty last year after running a two-year house party from an old colonial estate outside of College Park, MD. He spins ragga and dancehall riddims in the East Village and recently teamed with Ryan O'Neil to drop The Adventures of The One Hand Bandit and The Slum Computer Wizard, a familiar flashback to the hip hop golden age that's been pushing my Volvo all week.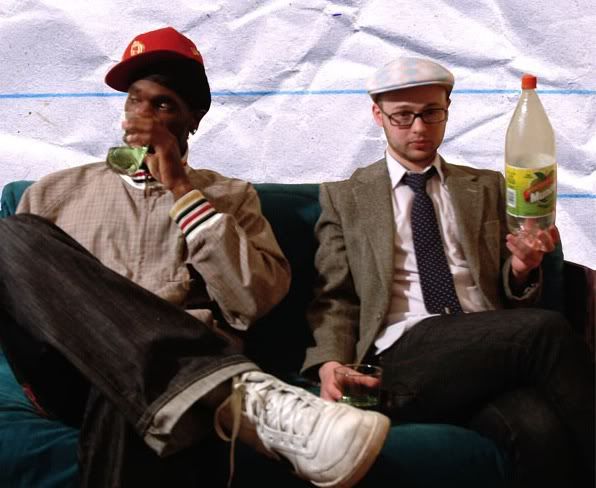 Fans of DJ Premier's two-bar cardboard breaks and scratched out choruses come for the production, buhloone mindstate heads stay for O'Neil's graduation ceremony laments on the materialized state of crime n' Crystal n' pissed out elevator shafts. Read the full Beatbots album review here. Close competition for best Paper Planes of the year:

100dBs - Paper Planes
M.I.A. - Paper Planes

100dBs also laid out a dub homage to Hova's Black Album awhile back called The Argyle Album, download the whole thing or grab a few of our favorites:

Lucifer (100dBs Remix)
What More Can I Say (100dBs Remix)

Lastly and most importantly, if you like what you hear (and all the great free music on their site) drop them a line and pick up the new album for only $8 by bob digi download here. It's the sound of some talented, hard-working hip hop heads seeking enlightenment through the hustle.

Update: Check out an interview with Brenner and O'Neil via Urban Species here.