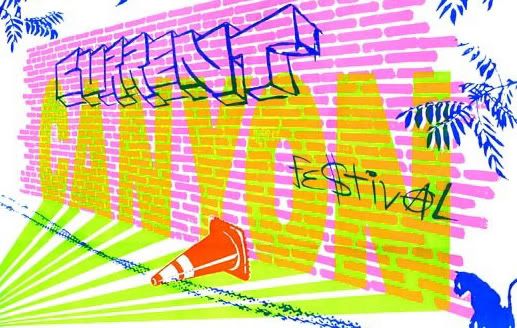 Rebel 'gainst the changing seasons, get outside and go banay-nays at the Current Canyon Festival! The kind folks at Current Gallery (a local artist-run gallery/studio/performance space) have amassed a wig scrambling lineup of local/national artists guaranteed to bring the am to the pm this weekend. Plus over 15 video artists/performances and a mad craft market (bring your own pigeon feathers). Everything goes down at 30 S. Calvert St. from 1-9pm Sat and Sun.

Bmore duo Monarch (below) are undoubtedly one of the most anticipated acts of the weekend, more on them when we release round two of the Buttermore mix series very soon.

Monarch - Family Glue
(link borrowed from our east coast homies Instrumental Analysis)




















Lineup:
Saturday
Ponytail 9PM
Flora/Fauna 8PM
Karl Blau 7PM
Lexie Mountain Boys 6PM
Small Sur 5PM
WZT Hearts 4PM
Larkin Grimm 3PM
Degeneration, Dripping Blood, Fading Away 2PM

Sunday
Arboretum 9PM
Pontiak 8PM
Frenemies 7PM
Monarch 6PM
AK Slaughter 5PM
Smash Hits 4PM
Wolther Goes Stranger 3PM
My Disco 2PM

We fired a quick round at a few of the organizers - Andy Cook, Liz Flyntz and Small Sur's indie solo supergroup frontman Bob Keal - to get you the full premium steez.

BT: Tell us about some of the bands you're looking forward to seeing.

Andy: I'm always psyched to see Monarch. Andy Stack and Jen Wassner are super talented musicians and songwriters. Their stuff reminds me a lot of The Jesus and Mary Chain or Yo La Tengo at their peak. Also excited to see AK Slaughter again, their brand of hip-hop is funny and really catchy. (BT note: they flow over Hall n Oates beats!)

Bob: Karl Blau - he's been a part of the music scene in the northwest for a long time now and he's touring in support of his newest record, Dance Positive, which is available via Portland, Oregon's Marriage Records. He is an incredibly prolific songwriter and collabs with tons of NW notables on a regular basis, including Bret Lunsford (Beat Happening, D+) and Phil Elverum (Microphones, Mt. Eerie, D+).

Karl Blau - The Dark, Magical Sea
Karl Blau - My Johnny

Liz: Lexie Mountain Boys is always a high energy spontaneous spectacle. Definitely one of the most original and highly-hyphenated acts in Baltimore. Attempts at descriptions often use the terms acapella - all-girl - perplexing- performance art- mouth sounds - costume-shop. Degeneration, Dripping Blood, Fading Away is Jamie from Bunny Brains' band with her 9 year old daughter. WZT Hearts has a new album out called Thread Rope Spell Making Your Bones, and it will be pretty rad to see them perform new stuff.

BT: Rad indeed, Liz. Rad indeed. Sounds like a lot of bazaar art/music/video you dont want to miss.