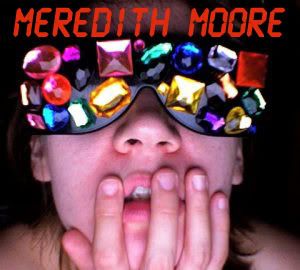 With the constant spaghetti stream of Day-Glo Play-Doh being squeezed out of Baltimore recently (see: any video from Dan Deacon, Jimmy Joe Roche or of course the Video Hippos) we sat down with one of the many local artists whose work is saturated in buckets of neon paint and awkward moments from 80s bob digi pop culture.


Bmore artist Meredith Moore is most recently known for the fabulous Videohippos spot Narwhals (below) and for probably the most blinged out music video of all time, Diamondz, featuring a Crystal-laced composition by Wham City chief Dan Deacon. And there's lava aplenty in both videos, which we respect.

A quick volley and serve:


BT: How did you arrive in Baltimore doing rad video art?

MM: I was born and raised in Oklahoma, and early on I discovered the richness of creating things/worlds/on your own terms. In high schoolI I yearned for more than just getting stoned and painting self-portraits. I applied to art school and picked Baltimore because they offered me the most in scholarships. I had never been to the East Coast. Culture shock! Good for me!

I started MICA (Maryland Institute College of Art) as a painting major, and was super bored with it a year later. I took a video class on a whim and fell in love. I love the accessibility of the medium - we all grew up on television and movies - AND its 4 dimensional - working with time. Making an experience. I am very in to experiences. Very awesome.



BT: How did you hook up with Videohippos and Dan Deacon?

MM: I had two video classes with the drummer, Kevin O'Meara, but we only eyed each other from afar until the last class when he asked if he could use my video (monster trucks and puppets) for a song. This lead to us becoming partners in crime (and love) and i went on a week long tour with Videohippos and Dan Deacon down to Florida where i encountered the amazing films of Jimmy Joe Roche and the man himself. After that i was hooked on Wham City, Kevin, Snake Mistakes, and audio/visual orgasms. Best times ever.

BT: How do you get hamiltons?

MM: I'm a door girl at shows, I film and edit the Ed Schrader Show sometimes, and i hawk shit and do some basic hustling. (ha!) I just got a job at Whole Foods that pays the bills but doesn't zap me of all my time and energy and allows me to not worry about money and focus on new projects - i'm too young and smart (22) to begin some sort of mediocre career.




















BT: We agree. Stay on the hustle. So what's next?

MM: Well i just graduated, so now its all relatively up in the air....but me and my roommate Mark Brown (of are we not men dj status) are starting a video podcast called netdreams which i am very excited about. Also I'm working on the beginning of a super secret personal project, and later this year I'm going to be making a video for one of Dan Deacon's new songs (shhh).

Thanks Meredith. Now a few Bmore breaks:
Curtis Vodka - Diamonds & Cream
Dan Deacon - Snake Mistakes
Videohippos - Narwhals
Videohippos - Toothsub

More Meredith Moore, Dan Deacon, Videohippos, Jimmy Joe Roche