What did you do for your 8th birthday? McDonald's? Your party was at McDonald's?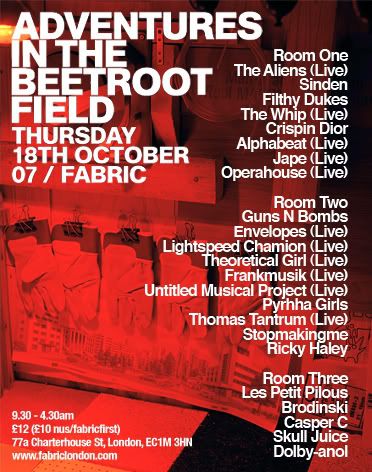 London's Fabric crew wants to avoid your awkward social mistakes by ringing in their ocho with more than twenty top notch wig scramblers spread over three rooms. Plus McGriddles!*

Fabric press officer James Mack tells us: "We've prepared a whole long weekend's worth of parties starting on Thursday with Adventures in the Beetroot Field. Since their rowdy party for our birthday last year, AITBF have consistently thrown the most forward-thinking bashes in the capital. For our birthday, they've given us quite a special gift: three rooms filled to the brim with the likes of The Aliens, Lightspeed Champion, The Whip and Envelopes."

Frankmusik - Made Her Smile
Envelopes Promo Mix

*At press time we were not able to confirm the availability of McGriddles in the UK, but if you agree to fly us over, we will help you sneak some in. Just don't keep them in your knickers very long as the syrup chips are heat-activated. See our review of LCD Soundsystem's FabricLive 36 mix here.