Bmore artists playing local shows over the next seven days include, but are not limited to: Dan Deacon, Videohippos, Ponytail, Monarch, Thrushes, Ecstatic Sunshine, Jones, Shields, Height, Double Dagger, Thank You, Tall Grass, Television Hill and The Heavycoats. Here's a super quick rundown: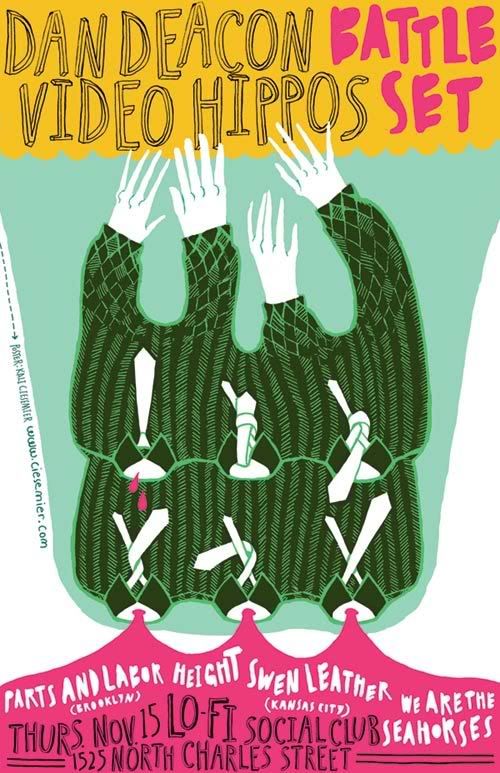 Dan Deacon - Snake Mistakes
Videohippos - Kool Shades
Height - Bad Weather
















Shields - Boom
Jones - Too Dope



































Ecstatic Sunshine - Little Big Dipper
The Tall Grass - Ring and Ring
Ram Ones (Dan Deacon and Connor Kizer) - Portals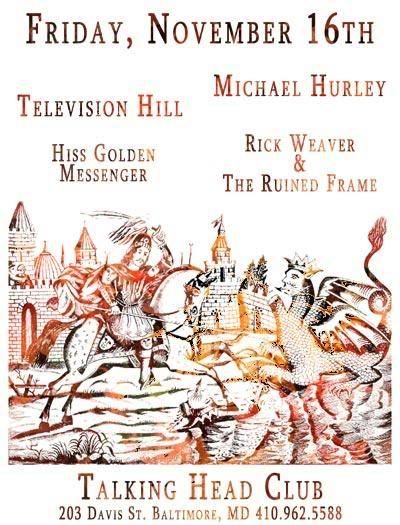 Also at The Talking Head:
Saturday 11/17 - Thrushes and Bang! Bang!
Thrushes - Into The Woods
Win Guest Passes To This Show

At The Ottobar:
Tuesday 11/13 - VHS or Beta, Moving Units, The Heavycoats
The Heavycoats - Sea Song (link from Instrumental Analysis)

Wednesday 11/14 - Melt Banana, Hex Machine, Double Dagger, The Jons
Double Dagger - The Psychic

Monday 11/19 - Black Dice, Pissed Jeans, Ponytail and WZT Hearts
Ponytail - Lion Down

At Lo-Fi Social Club:
Monday 11/19 - Monarch, Oppenheimer
Monarch - Please Concrete

So which ones are you going to? All of them? And you ate a whole wheel of cheese?