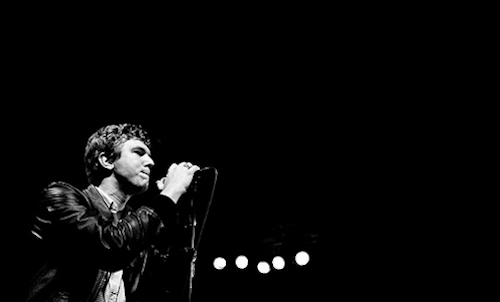 (photo: reinier asscheman)

We sat down with The Walkmen's Hamilton Leithauser and a glass of brandy to discuss new material (included here), a possible new label, the official Walkmen novel, and upcoming tour shenanigans.

BT: Tell us about the new album - sounds like you're about halfway through?

HL: Actually we just got a lot further yesterday, we finished two big songs, one of which we've been working on for literally a year and a half. It was the first thing we started working on for this record and we could never get it done, but we got it going yesterday and everyone's really excited about it.

Where are you recording this one - in New York?

Yeah we're recording at this place called Gigantic Studios in Tribeca. We've got plenty of new stuff, and I think we've got a really unique sound for every song. We've written a lot more than we need, so I think we're going to pick and choose based on what's best for the record and hopefully have some stuff left over.

Good position to be in.

Yeah, it's great. We're thrilled.

Is this one going to be released through Record Collection as well?

No, it's not. We're actually in negotiations right now with a new label, and we're all happy about that too. I think a little fresh blood will be good for us.

Do you have a name or release date yet?

We don't have a name yet but it'll be out in May or June we guess.

Got a chance to hear a few new songs you played for KUCI 88.9FM in Irvine recently - are those going to be on the new album?

I actually don't remember what we played but they should be.

Your loyal Marcata fan forum had a couple song titles listed for this set - "If Only It Were True," "I Lost You," and "Red Moon"...

Yeah, those are all going to be on it.

Well that's a great preview - we really enjoyed those (hear for yourself below). The first Walkmen album was developed in your own studio, giving you plenty of time to tinker with different sounds before playing anything live. Each album since has become more confident and energetic - how has playing in front of crowds affected your sound?

It's very different when you've played in front of a crowd and when you haven't. Sometimes it's a better idea to write in the studio, you know, and you sort of get a different kind of song. But with the live concert scenario you can learn so much more from getting out there and playing it in front of a crowd.

We actually just finished a whole batch of songs in the last two weeks that we'll be able to do on this tour, and since we're also recording it's great to be able to have that time to test it out.

And you've been able to vary your sound on each album without departing from what you're so good at.

Yeah you really want to vary your sound. I think on our last album (A Hundred Miles Off) we didn't do that, as it wasn't really a concern at the time - we just sort of slogged it out in the studio which was part of its charm. But this time we're really going for a completely unique package.

Songs like "Louisiana" and "Brandy Alexander" really surprised me because they were so accessible - previously The Walkmen had been dense and multi-layered with some of the best songs taking awhile to get into. But I could even slip those songs into the hold music at work...were these just sort of "pop accidents?"

(laughs) Yeah, those were actually sort of accidental songs. I mean, "Louisiana," we were just sort of strumming along and we all just liked the way the instruments sounded there and we ended up adding the horn part. I don't know. I guess they're just sort of light and happy and fun and maybe that's why people take to those. And that was a big step for us - it sounds like we were just screwing around, but everything we've ever done in our lives since we were like thirteen has always been so heavy. It's nice to be able to do things that aren't either dark, heavy, or super intense.

So are you able to continue that "lighter, breezier Walkmen" theme in some of the new material?

Yeah, we've got a really good variety on this one actually. Because we do have some heavier stuff but we also have some...much more "thought out" versions of some of the lighter stuff. We've had a lot of time between the records and it's given us a chance to get a new sense of what we should be doing.

You're probably the only lead singer to ever be compared to Bono, Bon Jovi and Bob Dylan.

Huh. Bon Jovi - I didn't know about that one. Like, "Livin' On A Prayer" kind of stuff?

Yep.

I liked when we were doing our album Bows and Arrows and we finished a song, and Stuart the guy who was recording looked at me and said, "This sounds a little bit like Rod Stewart." It took me by surprise and never would have crossed my mind but I think he was right on.

"Thinking Of A Dream" (from Bows and Arrows) is probably my favorite Walkmen song because it showcases all of your different strengths together in the same song -

Yeah that's actually one of everyone's favorites because it took us by surprise. It was such a battle - it took so long to finish because there were several parts that weren't fully written when we got to the studio.

The Walkmen are the band every fan wants to be in - a group of friends that grew up together, constantly make fun of each other without too much drama and share their own brand of dry humor. Last year you each played different members of Sex and the City and recorded yourselves reading the script - how did that come about? Pure boredom?

That was Walt's idea I think, yeah. We were thinking about doing the show Entourage but then we realized Sex and the City would be much funnier. I don't know, that was just from being on tour a long time.

Any excuse to keep from finishing the book right?

Yeah (laughs).

Ever watch Family Guy?

I haven't seen it but my friend Mike loves it.

There's a scene about people that always talk about finishing their novel.

Yeah we shouldn't have gone public with that whole thing, you know? We really are trying to finish it even though it might take us 20 years.

Well, it shows people you don't take yourselves too seriously. I think a lot of bands could be having more fun these days and be a little less calculating.

We do have a good time and I definitely know what you mean.

Any other creative exploits planned for this tour?

We should have a lot of time to kill so I'm sure we'll come up with something.

You could make a Mentos commercial.

Walt just got a video camera, so maybe that will be our next thing.

---

Enjoy some confirmed new material from their upcoming album, performed live from Irvine's KUCI 88.9FM on 11.30:

The Walkmen - New Song (Unknown)
The Walkmen - If Only It Were True
The Walkmen - I Lost You*
The Walkmen - Red Moon

Needless to say you'll want to catch all of this live The Ottobar next Thursday 1/24. Purchasing advance tickets would be smart, particularly with
White Rabbits opening. More tour dates available here.

Additionally:
The Walkmen - What's In It For Me (live on Q101, 2004)
The Walkmen - Thinking Of A Dream (from Bows and Arrows)
White Rabbits - I Used To Complain Now I Don't
The Walkmen - Select readings from Sex and the City (via Daytrotter)
Stewie Griffin - That Novel You're Working On?

*Unfortunately this song is interrupted by an emergency broadcast system test towards the end.