Please join us for a scrumptralescently sensous evening at (L)PR next Thursday 12/11 with French pop superstar Sébastien Tellier and friends. This shall be Purple Rain by hearth's edge; our bearded faces will glisten with the succulent juices of roasted duck meat. Hushed sotte voce vocals will drift under stabbing vintage synths, and whilst enjoying "Fingers of Steel" - a song about crushing on a robot - we shall collectively relish Guy-Manuel de Homem-Christo's feathery production touch.


Sébastien Tellier - Fingers of Steel (from Sexuality)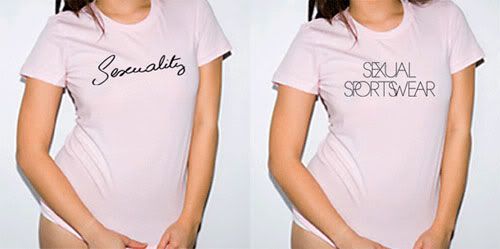 Although you may buy tickets here ($13), Cosby's presence on BT always indicates free stuff; in this case two complimentary guest list spots (+1) to the 12/11 show. Those outside of NYC may be more interested in scoring a pink AmAppy shirt for your gf along with special edition Divine Vision/Remix CDs, and we have a few of those to give away as well (US residents only, specify M or L).

Hit us up if you're interested in either and we'll do a random drawing for tickets and tees early next week.


Sébastien Tellier - Kilometer (Moulinex Rmx)


Sébastien Tellier - Roche (Breakbot Rmx)

Merci beaucoup Record Makers pour le concours.