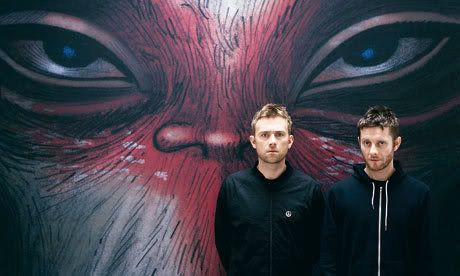 Exactly what have Damon Albarn and Jamie Hewlett been up to with this Journey to the West thing? Is Monkey the new Gorillaz, or just an animation, album and Chinese pop opera?

Produced by Damon Albarn, the album Journey to the West is performed by both European and Chinese musicians and singers (not Albarn); the art and music is based on the opera of the same name which Albarn and Hewlett created with director Chen Shi-Zheng; the lyrics are sung in Cantonese, the la-la-las are universal; and analogue synth arpeggios, echoing harp, primitive drum machines and traditionally-inspired animation support from Hewlett build an Olympic-sized soundscape we can all dive into. What better way to start your 早?


Monkey - Heavenly Peach Banquet (from Journey to the West)




Like Gorillaz, Journey to the West is more than just a notable experiment from a could-be-retired 90s British pop star. While the should-be-retired Oasis are basically doing the exact same thing 14 years later with diminishing returns, clinging to heavyweight marketing campaigns from equally desperate major labels (if no one cares, can you still pretend you don't?), Albarn has once again earned the spotlight by stepping out of it.

I try to limit hyperbole wherever possible, but Paul Morley's recent Guardian UK interview with Albarn and Hewlett, conducted from the rooftop of London's Royal Opera House, is one of the best feature pieces on any artist I've ever read. Morley tackles the task of pulling apart Albarn's myriad projects ("the synergetic Africa Express; his Honest Jon's record label and the Honest Jon's Revue representing his wide-ranging and wonderfully eccentric musical enthusiasms; the ambient dub punk group with no name known by the title of their album, The Good, The Bad and the Queen; the glamorously moody virtual pop group Gorillaz who may or may not have now magically evolved into the virtual group Monkey, who have made an album that may or may not be directly connected to the psychology and sonic flamboyance of the Journey to the West opera; the trailers and title sequence Albarn and Hewlett have produced for the BBC coverage of the Beijing Olympics; the Monkey record which does not feature Damon singing and is a sort of ecstatic, melancholy electro-ghost of the opera...") with such affection and charm that you wish the 6,500+ word article were much longer; or even better, you happened to be serving bread-and-butter pudding and listening in on the rooftop that sunny afternoon.

Journey to the West is available digitally now at the Monkey Shop (or you can get it a few bucks cheaper at iTunes). If you've already picked it up, let us know your thoughts.